Last year (late 2008) I applied for a Teaching and Learning grant to embed mathematical software in all aspects of one of my first year subjects. (This subject is mostly calculus, with a smattering of combinatorics and complex numbers thrown in.) My University for some time has had a lab license for Maple; at the time we originally purchased Maple we had tried Mathematica, and been disappointed with the level of support from Wolfram Inc; and the freeware software such as Maxima, Axiom or Sage, were not as robust as they are now. Anyway, we had built up a fair amount of local expertise in the use of Maple as an adjunct to lectures and tutorial, in lab classes.
The idea of this grant was to embed Maple more solidly in the subject: to include it in the notes, and to use Maple T.A. for assessment. Basically, the entire subject was to built around Maple. I should point out here that I have no special alliance to Maple or its parent company; this was more of an historical decision, based on the current expertise of our mathematics staff.
Maple and Maple T.A.
Maple is a computer algebra system; that is, a computer system which as well as allowing numerical calculations, also allows symbolic and graphical work, all nicely integrated into a "worksheet" interface: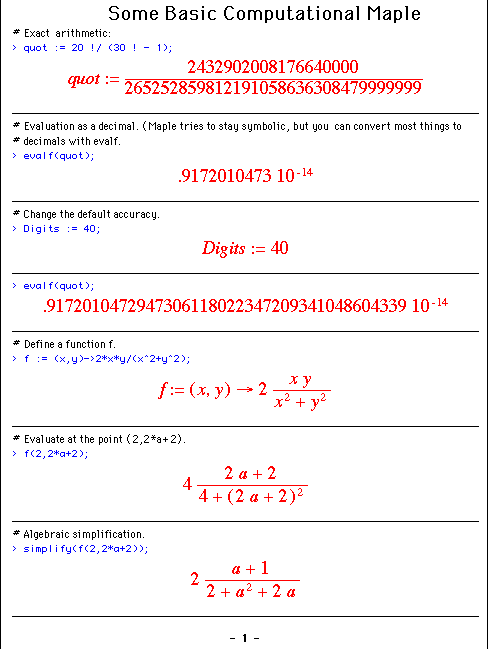 A symbolic example with differential equations can be seen here. And here's one with Laplace transforms:
Maple can also draw nice graphs (the spelling error is not mine!):
which can be rotated, zoomed into and out from, in real time all with the mouse. Here's another picture: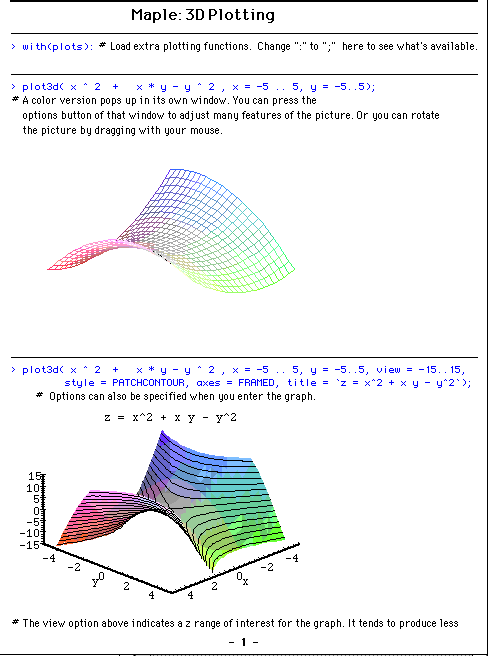 Maple T.A. (the "T.A." stands for "Teaching and Assessment") is an add-on package, sold separately, which allows mathematical tests to be administered online. Tests may contain open-ended questions, multiple-choice questions, questions whose answer may be a number or a formula, questions which may contain graphics, questoins built of random elements so that each student gets a different question. Maple T.A. is designed to work with Maple in the background, so the mathematical "engine" of Maple checks to see if the answer entered by the student was correct or not. Maple T.A. comes with a powerful authoring system, where questions can be created by filling in blanks, as you can see here. And of course it does automatic grading, and collation and analysis of results. It is supposed to scale well, so whether you have 30 students or 3000, Maple T.A. should be able to handle them with ease.
My project
I applied for
10,000, I'd allocated some to buying Maple T.A. (to be precise, upgrading it, as we'd bought a license some years ago with another grant), some for a little time-release for me, and some for the research assistant. My own time-release was quickly used up in planning, implementing, and supporting the students in the labs, which, as I said above, I made too hard. My research assistant, who did about three times the amount of work I paid him, wrestled with Maple T.A. until he was totally sick of it. By the end of year, we had run out of time and money, and still didn't have an assessment system we could easily use.
Another Change Plan – this time for technical staff – meant that suddenly all our computing support vanished, and in particular our sys admin, who'd so valiantly fought the good fight with Maple T.A. was relieved of his position. So at the time of writing, Maple T.A. is off-line, and can't be brought back, as the one person who knows how to do it no longer works here.
Failures
Well, we have certainly not managed to achieve our aims. We have not incorporated Maple T.A. into the assessment of the subject. A small pilot study I ran two years ago (with another grant) demonstrated that this was certainly feasible, but it was not brought to fruition with this current project.
Successes
Apart from my tendency to get over-excited with software, and make things too hard for the students, we have successfully demonstrated the powerful use of mathematical tools in first year subjects. The students, once over their initial lack of enthusiasm (read: "animosity") to the software, became happier with it over the semester, and by the end were very pleased to be using it. In a sense, the major outcome of this project was a paradigm shift, from software as being an adjunct to a subject, to becoming an integral part of it, even if not in the way I'd envisaged in the grant application.
Future plans
Now that the project has finished, we need to look ahead. To y way of thinking, teaching mathematics without using modern software tools would be like teaching carpentry without power tools. However, it is clear that Maple and Maple T.A. are not the way to go. There are several reasons for this:
Being commercial software, we would be locked into expensive licensing agreements, which the University would be unwilling to maintain.
Our current license (for 40 concurrent users) is not really sufficient for projected demand. We thus need a system which is highly scalable, without a huge increase in cost.
Commercial also means possible difficulties in installation and maintenance, as we have seen.
So far, I haven't met anybody who's used Maple T.A. and liked it.
So, some possibilities for further work include:
Using WebWork, or STACK, which uses Maxima as its engine. Both of these are open source, and both are known to work well.
Create an entirely new product which uses Sage as its engine. This may be done by rewriting STACK so that the system calls are to Sage, instead of Maxima. Given the current high interest in Sage, this may be a preferred solution.